Another Decline for Detroit, Another Rise For Japan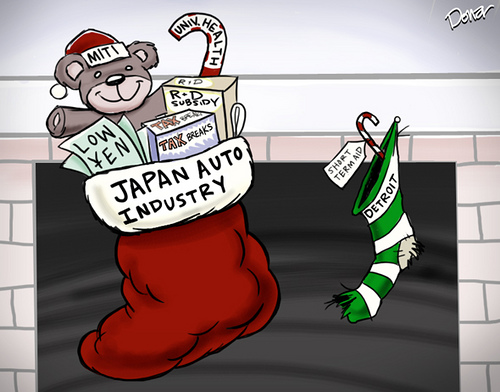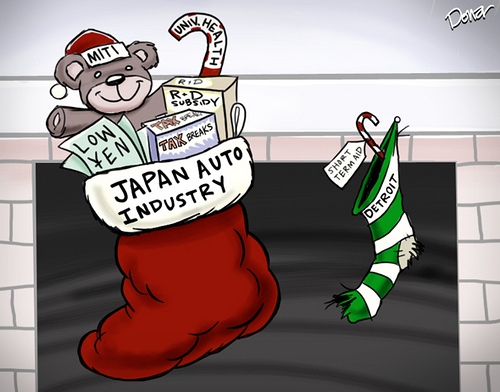 There has been a lot of talk about what a strong September it was for the car industry, but for the big three of the American Auto industry, there have been a couple of worrying signs.
General Motors Co., Ford Motor Co. and Fiat S.p.A's Chrysler Group LLC combined to sell 44% of the cars and light trucks delivered in September. Not bad, but down from 48% from a year ago. Where did those buyers go? The recuperating Japanese market, and especially to Toyota Motor Corp. and Honda Motor Co., which together picked up 4.4 percentage points of market share in September, thanks to big jumps in sales for the Toyota Corolla (+43%), the Honda Accord (+57%) and the Toyota Prius (+103%.).
The after-effects of the Tsunami in Japan are over. The Japanese auto makers are adapting despite the problems with their own currency, as they have in the past, by building more vehicles in the U.S., Canada and Mexico. The supply lines are back in operation. Both Toyota and Honda are fielding new models – Honda Accord and  slick, new versions of the Prius.
Small cars captured 20% of total car and light truck sales in September, up from a 15% share a year earlier. The constantly rising gas prices are huge contributors to the shift towards smaller cars.
Small cars are home turf for the big Japanese brands. But in contrast to past cycles of Japanese resurgence, the Detroit automakers have credible compact models on the field – Chevrolet Cruze the best-selling compact car in the market in September; The Chevy Sonic, the number one in subcompacts.