Toyota Mirai FCV Runs on Hydrogen, Fills Up at US Stations
The Japanese automaker envisions a future where cars no longer produce toxic emissions, and where people can drive hydrogen-powered cars safely all over the world.
With a range of 300 miles per charge, Toyota Mirai is an eco-friendly car that will be difficult to beat. Even the Tesla Model S, which has a similar range, is not as convenient to use as the Mirai (which is Japanese for "future"). The main difference lies in the time it takes to fully charge the car. More precisely, you need 20 minutes to charge Model S' battery to half of its capacity, and that only when using one of the 120-kW Superchargers. On the other hand, Toyota Mirai can be fully charged in just 5 minutes. Of course, Tesla's main advantage is the great number of Superchargers that will continue to grow in the next couple of years to reach a few hundreds all over the world. However, Toyota promises to increase the number of charging stations in the US in the very near future.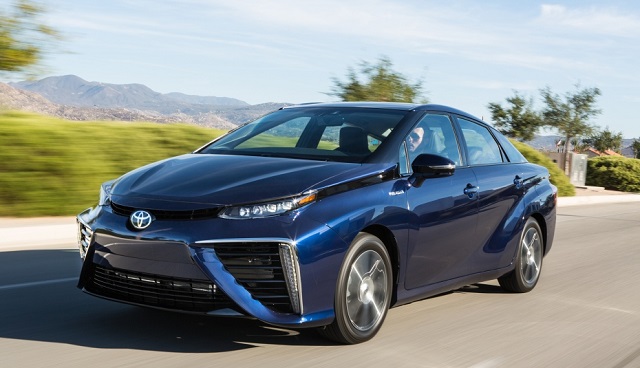 By the end of 2016 there will be 48 stations in the US. This number is pretty low compared to what EV manufacturers are offering now, but the hydrogen refueling infrastructure should expand exponentially if this car (and other similar vehicles) gets a positive reception.
Honda, yet another important Japanese automaker, announced that its fuel cell vehicle won't be ready until 2016. While postponing the car itself, Honda said that it will make public the details related to its own infrastructure. Somehow, I doubt that Toyota and Honda will make the charging stations compatible with one another, even though that would benefit everyone, along with the other carmakers that will soon join the hydrogen race.
Check out the following video to see Toyota's president, Akio Toyoda, talking about how this fuel cell vehicle could change the world:
Toyota Mirai FCV will be available in 2015 for $57,500. Supposing that the federal incentives will be offered next year, as well, they will bring the price of the hydrogen car to less than $45,000. Getting a lease for the car means paying $3649 when signing the contract and $499 per month for the next 36 months. All these financing options make the Mirai a very attractive option for the ones who are concerned about protecting the environment.
Be social! Follow AutoCarb on Facebook and Twitter, and read more related stories about the DRIVE safe connected driving system, or Heinz and Ford's collaboration on tomato peel plastic.